YEAR: 2001
Initial Price: US$299.99
The original Xbox was released on November 15, 2001, in North America, February 22, 2002, in Japan, and March 14, 2002, in Australia and Europe. It was Microsoft's first foray into the gaming console market. As part of the sixth-generation of gaming, the Xbox competed with Sony's PlayStation 2, Sega's Dreamcast (which stopped American sales before the Xbox went on sale), and Nintendo's GameCube. The Xbox was the first console offered by an American company after the Atari Jaguar stopped sales in 1996. The name Xbox was derived from a contraction of DirectX Box, a reference to Microsoft's graphics API, DirectX.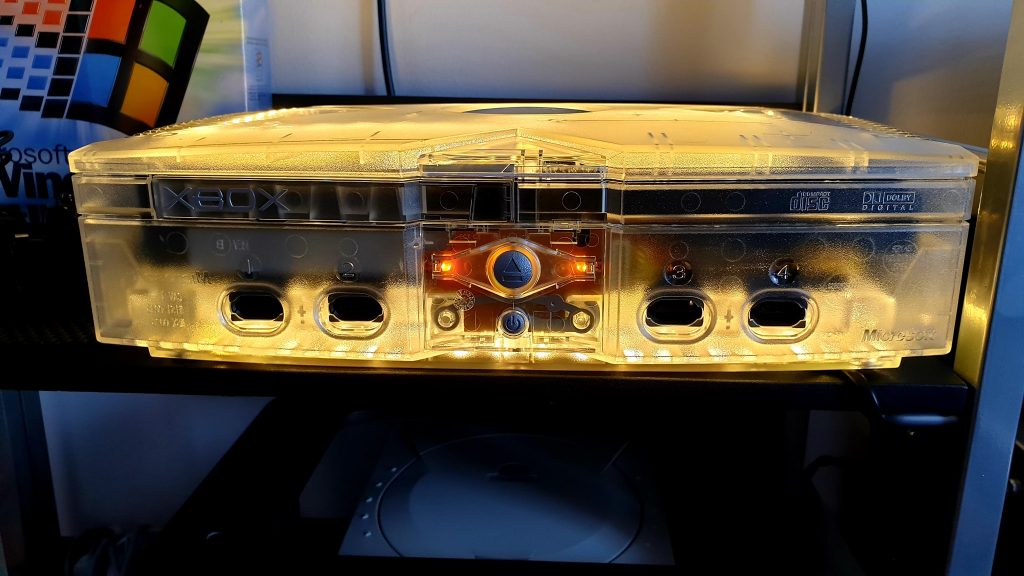 The integrated Xbox Live service launched in November 2002 allowed players to play games online with or without a broadband connection.[6] It first competed with Dreamcast's online servicebut later primarily competed with PlayStation 2's online service. Although these two are free while Xbox Live required a subscription, as well as broadband-only connection which was not completely adopted yet, Xbox Live was a success due to better servers, features such as a buddy list, and milestone titles like Halo 2 released in November 2004, which is the best-selling Xbox video game and was by far the most popular online game for years.
I own 3 Xbox consoles, 2 are the standard edition and one is the clear case one. I like the Xbox as its a very reliable console except for the CMOS capacitor that will leak and will destroy your mobo overtime.
The clear case XBOX was kept in a very humid place so the metal shields were rusty. I had removed the shields and added 1 meter of furniture led stripe in the bottom and top of the inside of the case. Now this beauty glows in the dark for me 🙂