YEAR: 1992
Initial Price:  $15999
Linux can be found anywhere these days, free distributions everywhere. Some like to say that they master Linux because they know how to install or configure Linux on a server. Nobody cares about that anymore and its not important on your CV or resume' – and your paycheck will suck.
UNIX administrators are the ones that get the high pay, Especially the Commercial Unix admins.
This is Costel, a commercial UNIX machine that was given to me by a cool guy from Bucharest that I hope I will meet in person some day.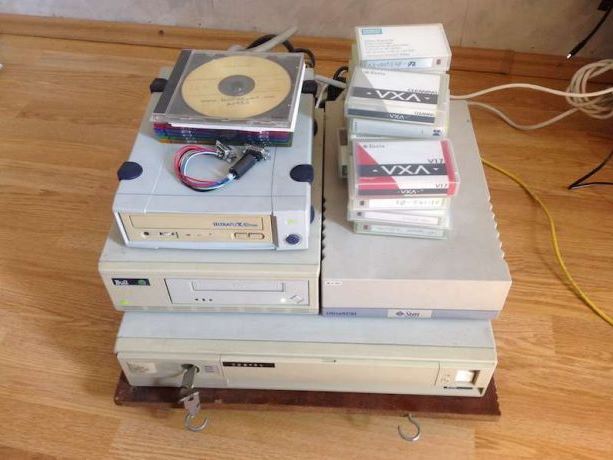 Costel is an IBM 7011-250 (re-badged as Bull DPX-20 / 100, was produced for the European market so it could be bought on EU founds. This PC is a PowerPC! 🙂
Main unit:
– 1 CPU PowerPC 601 66Mhz
– 96 MB Ram (4*16 + 4*8)
– 2.88 MB Floppy drive
– HDD SCSI 9Gb
– 2 network cards 10Mbps and RJ45 transceivers  (1 on-board, 1 on MCA slot)
– MCA Board multi-serial (8 ports)
– No Video Card – Serial Port Console, serial cable
– AIX 5.1L installed. latest version that supports PowerPC601
-Original front-panel key.
Extra:
– CDs:  AIX 4.3.3,  AIX 5.1, copy of freeware archivet AIX 4.3.3 from bulfreeware.com
– CDROM SCSI external UltraPlex 40max, (sector-size selectable – old Macs and SGIs can boot from)
– Tape Drive SCSI VXA-1, external, SCSI Bull
– HDD SCSI 15Krpm 36Gb, external SCSI Sun
– SCSI Cables
– Data tapes 8mm VXA V17 + cleaning tape 8mm VXA + data tape 8mm Sony modified for compatibility with VXA + 12 other tapes of 8mm ready to be modified by me.
costel:~# prtconf
See more on Facebook