YEAR: 1984
INITIAL PRICE: $ 2,599, $6,668 in 2019
The Sanyo MBC-775 was the first portable PC compatible to include a built-in 9 inch color monitor. Instead of the standard 4.77 MHz 8088 microprocessor found in most IBM PC compatibles at that time, Sanyo uses 8088-2, a turbocharged version operating at a fast 8 MHz! Read in full here.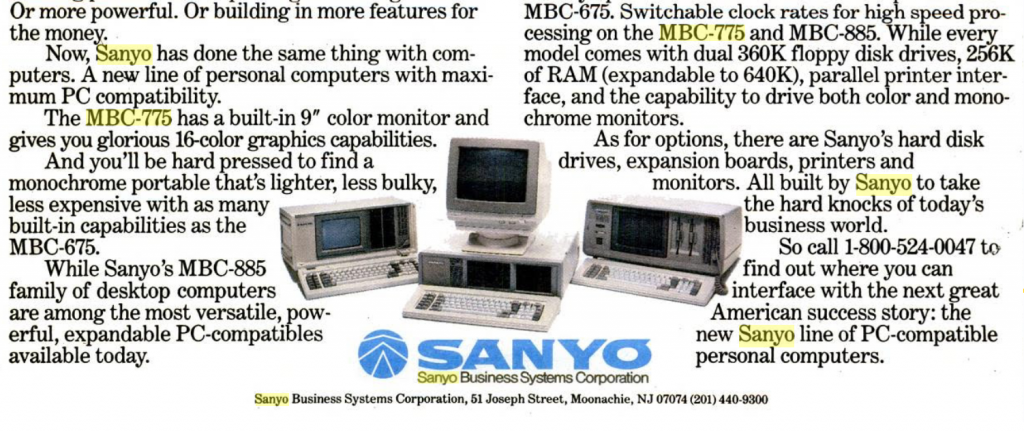 Hardware Features:
256K RAM expandable to 640K ROM
16K of video RAM
two 360K 5.25″ floppy drives
Centronics parallel port, and two expansion slot
supports 8087-2 numeric co-processor
built-in 9″ RGB, 16 colors, resolution is 25 lines of 80 characters, and graphics resolution is 320 X 200 pixels in four colors and 640 X 200 pixesl in two colors (black and white)
Software Features:
Sanyo bundles MS-DOS 2.11, GW Basic, and three software packages–Easy Writer II word processor system with EasyMailer II mail merge, EasyPlanner spreadsheet, and EasyFiler file management system–with the MBC-775.
This computer came in a bad shape and restoring it was the hardest projects I ever completed.
See restoration here.
Also, thank you 8 BIT Guy for making my page popular 🙂