Year: 7 July 2000
Initial Price: $199
In 7 July 2000, Sony released the PS One (stylized as PS one), a smaller, redesigned version of the original PlayStation. It was the highest-selling console through the end of the year, outselling all other consoles – including Sony's own PlayStation 2. A total of 28.15 million PS one units had been sold by the time it was discontinued in March 2006.
A version of the PS one included a 5-inch (130 mm) LCD screen, referred to as the "Combo pack".
The PlayStation's lead in installed base and developer support paved the way for the success of the next-generation PlayStation 2, which overcame an early launch from the Sega Dreamcast and then fended off competition from the Microsoft Xbox and Nintendo GameCube.
The PS One combo pack is a lot of fun and it looks like a burger 🙂 The colors on the display are crisp and sharp and the brightness is good enough even if you are playing in the car or outside.
I got the PS one LCD in pretty bad shape, the LCD was not working all the time and it had some yellowing on the back.
It seems there was something sticky dropped at some point on the display. On the back of the LCD the yellow marked ribbon cable was very sticky and the 3 marked capacitors were dead. i had cleaned everything using isopropylic alcohol and decided to change the bad SMD caps.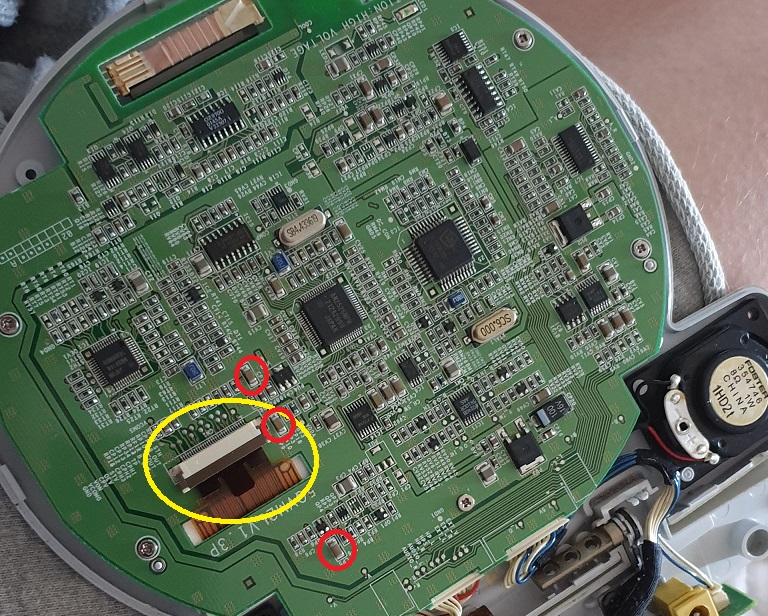 It was a sunny day so I decided that some RetroBright should do the trick and get this thing to its original glory.
There are many retrobrite techniques out there but I think the best is the one optimized by the 8 Bit Guy in the following video:
After a couple of hours there was a clear difference in the original state vs 2 hours of Sun.
I had decided to add some extra salon creme 40%vol 12% Hydrogen Peroxide and leave it in the sun for an extra 1 hour. The results are mind blowing.
Visit us on Facebook for more geeky stuff.