YEAR: 1995
INITIAL PRICE: $8.700, $14.683 in 2020
The Panasonic CF41 is considered to be the world's first notebook PC to integrate a CD-ROM drive, the first computing product to utilize magnesium alloy chassis for strength and durability. The CF-41 was to be the first in a long line of Toughbooks that would revolutionize field work as we knew it.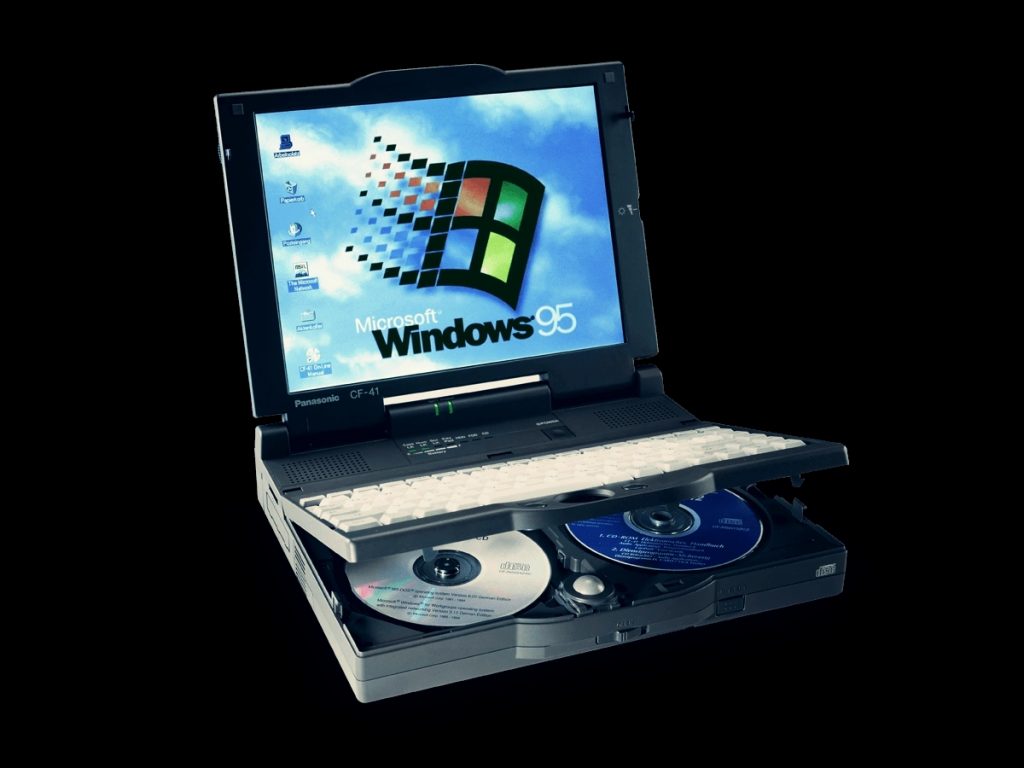 This was the very first model of the Panasonic CF-XX series, released back in March 1995. It was not marketed with the name "Toughbook" at that time, and although dismissed by Toughbook enthusiasts as not being worthy of the Toughbook name due to having no handle and lacking robust features that the CF-25 has, it is technically the first model released in the Toughbook line of laptops, also marketed under the "Panasonic Pronote AV" name in Japan.
It was on the market until the October 1996 and was built in 3 models that had improved specifications over time; the CF-41 Mk1, the CF-41 Mk2 and the CF-41 Mk3. The range of processors fitted ranged from the 486DX2 up to the Pentium 120. The included memory ranged from 4MB up to 16MB with an expandability up to 32MB for some models. All models featured ESS soundcard audio, a quad speed CD drive, 1.4MB 3 1/2 inch floppy drive and 2 PCMCIA slots. The screens on most of the models are 640×480 TFT modules, with the very early models offering 640×480 STN modules and some of the later MK3 models offering 800×600 TFT modules. The installed 2.5 inch hard drives ranged from 260MB up to 1.35GB. A unique feature of the CF-41 is that the CD drive is accessed by lifting the keyboard.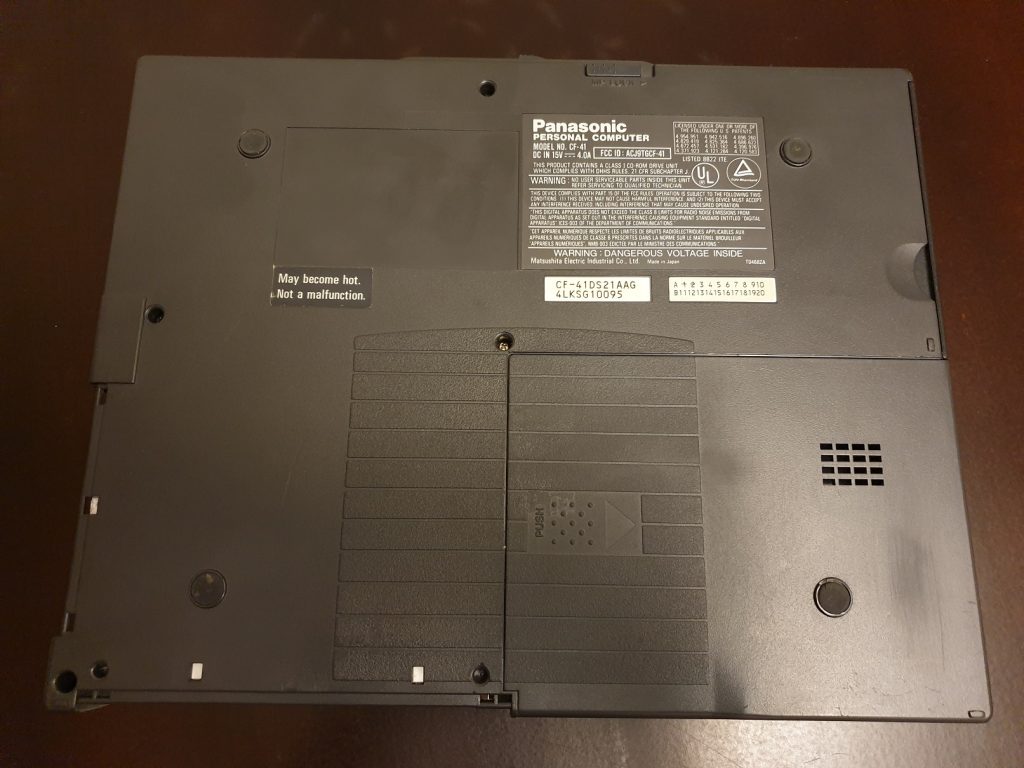 Machine
ToughBook/Pronote AV CF-41
Manufacturer
Panasonic
Introduced
03/1995 (Mk I), 03/1996 (Mk II), 01/1996 (Mk III)
Retired
07/1995 (Mk I), 09/1996 (Mk II), 10/1996 (Mk III)
Cost
$8700
System
MS-DOS, Microsoft Windows 3.1/95/98
CPU/Speed
Intel 80486DX4 @50MHz (Mk I), Intel Pentium @75MHz (Mk II), Intel Pentium @120MHz (Mk III)
RAM Min/Max
8Mb/24Mb (Mk I), 16Mb/32Mb (Mk II and III) (1x60ns slot)
ROM (Size)
Floppy Drive
1×3.5″ 1.44Mb
CD Drive
4xCD-ROM
Hard Drive
260Mb-1.35Gb IDE
Drive Bay(s)
None
Network
None
Audio
ESS ES688 AudioDrive (SoundBlaster compatible)
Video
Chips & Technologies Accelerator – 10.4″ (Mk I), 12.1″ (Mk II and III) TFT Active Matrix
Resolution(s)
640×480 (Mk I), 800×600 (Mk II and III) (16-bit)
Ports
2xPCMCIA, 1xPS/2, 1xAudio (in), 1xAudio (out), 1xDocking, 1×25-pin parallel, 1xSerial, 1xVGA
Dimensions
2.2″ x 11.7″ x 9.25″
Weight
9 lb
Power Supply
15.6 V
I bought this Panasonic for peanut money but it had no adapter and no HDD. The battery had leaked and everything was full of oxidation. After a few bottles of vinegar and a lot of isopropyc alcohol the computer looks just fine. I had also found a compatible power adapter that delivers 15V 4 Amps, enough to power this beast of a laptop. I also had a 1.6 Gb HDD from an old Toshiba that was instantly recognized by this machine.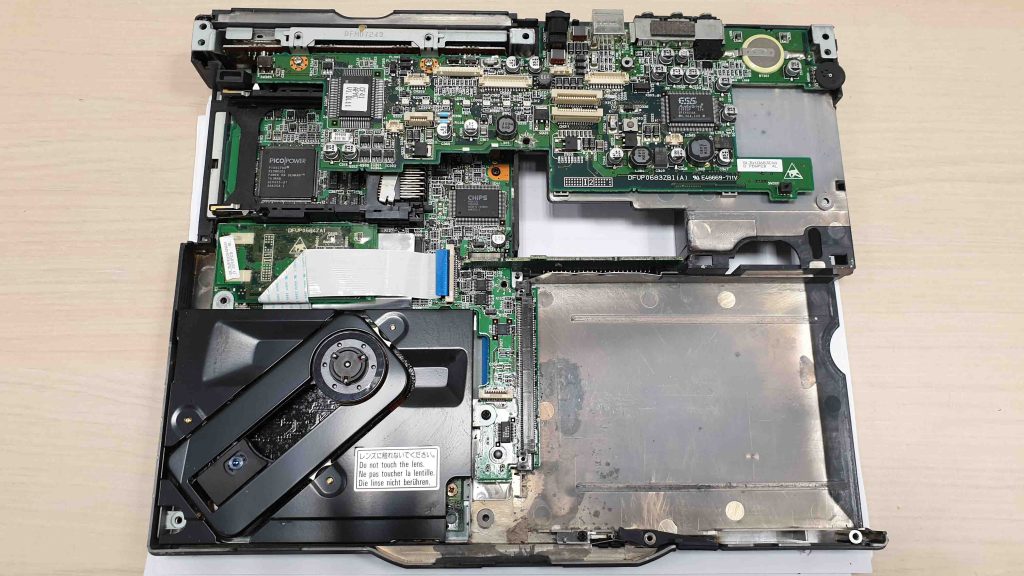 I had installed Windows 95 but I have no drivers for it so besides the SoundBlaster, nothing seems to work properly. I will try in the future to install the latest version of Windows 95, maybe that one will have a greater driver database. Meanwhile its definitely a fun machine for playing old DOS games. Also the CD-ROM fitted under the keyboard is a pretty unique design!